Feature List for 2019
Features for 2019
July - Custom Connective Steps for Projects

July - Accountancy Dashboards on Customer
You will be able to filter your clients purchases via a interactive dashboard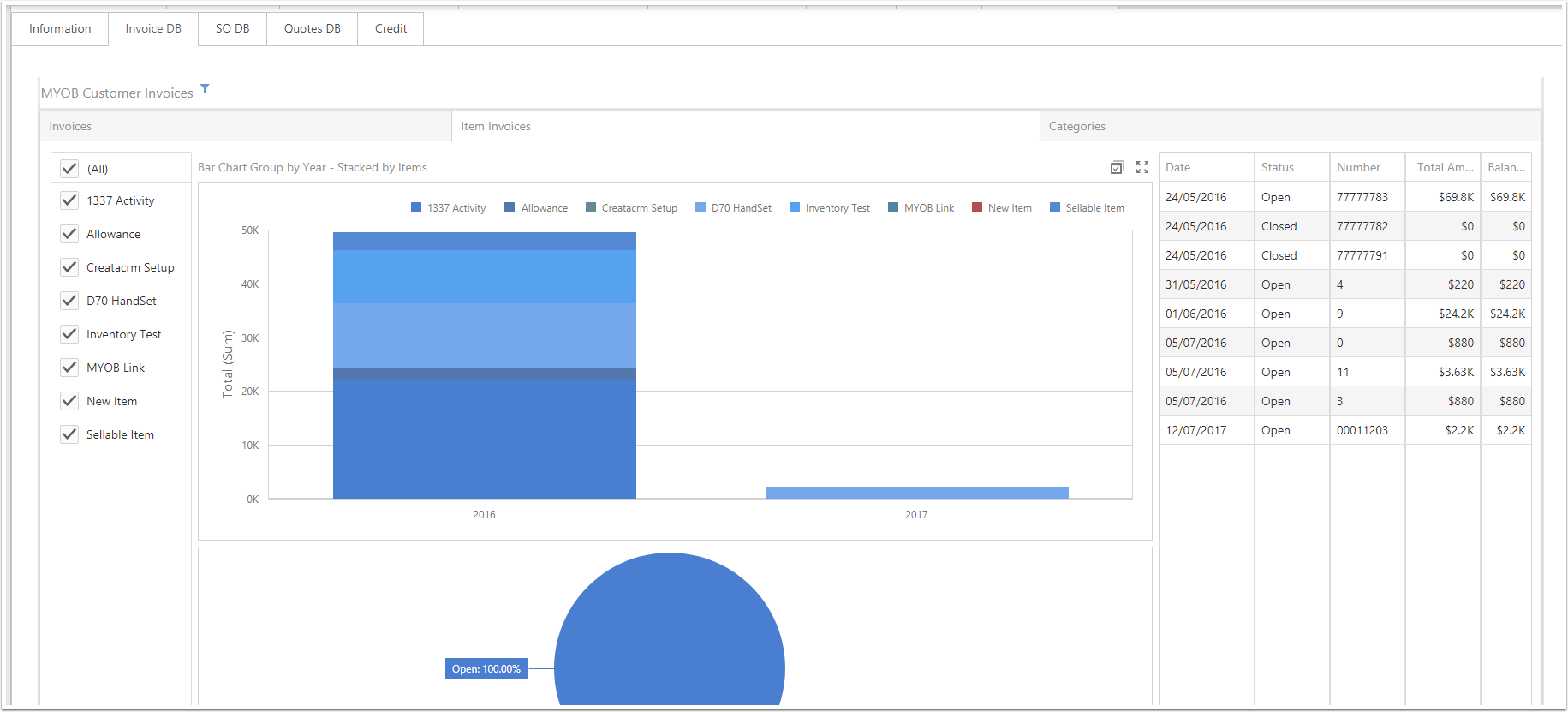 July - Multiple Connective Steps on a Job
Connective can be define on a Job Type. Meaning you can have a different process for Call out to a Schedule visit.

July - New Security System - Breaking Change
We have Migrated our framework, if you have existing Security rules, we will likely redo them. These rules have speed up security.
June - App Improvements
Things include
Sales

Leads list view
Quotes list view
invoice list views

Jobs

Jobs list view
Tasks list view

View Dashboards on App
And Much more...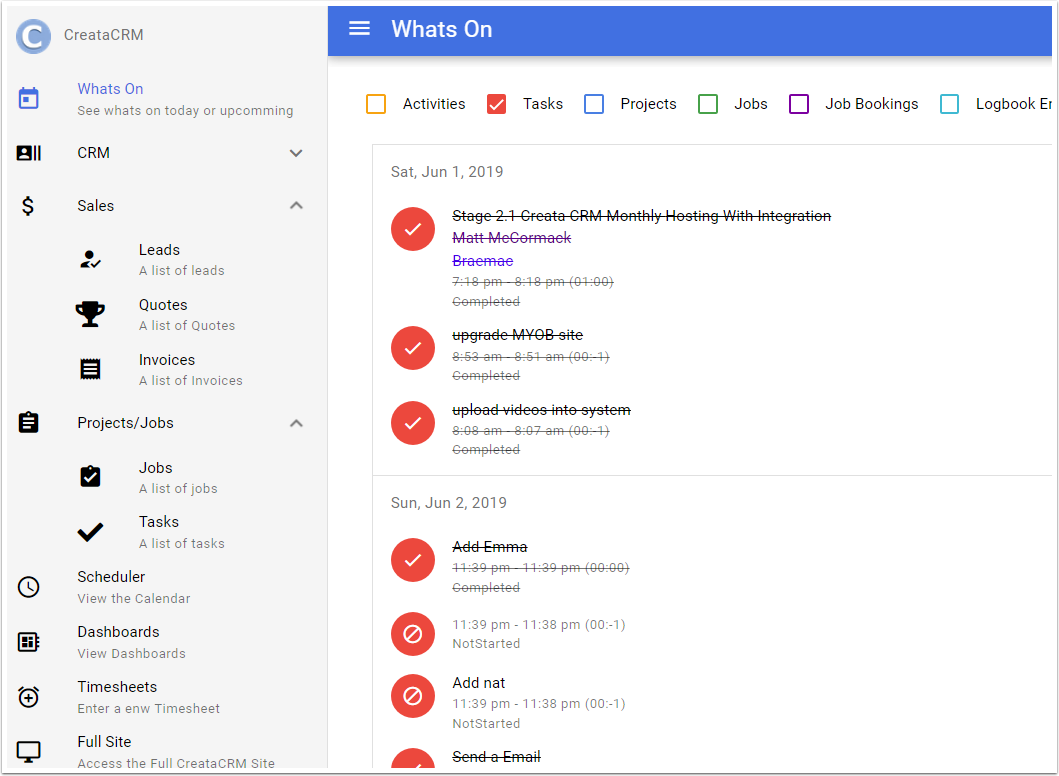 June - Drag and Drop up loader to a company, contact, Job and projects
Also has one level folder structure to organise your files into folders. You are able to drag large number of files at a time.

June - Added Group Product Service (Take Off)
You can group products up. Below Example, you will add 3 of Reckon Monthly hosting, Which will times all the amounts by 3.

June - Addded a Number of Dashboards
Added Activity, Quotes and Tasks Dashboards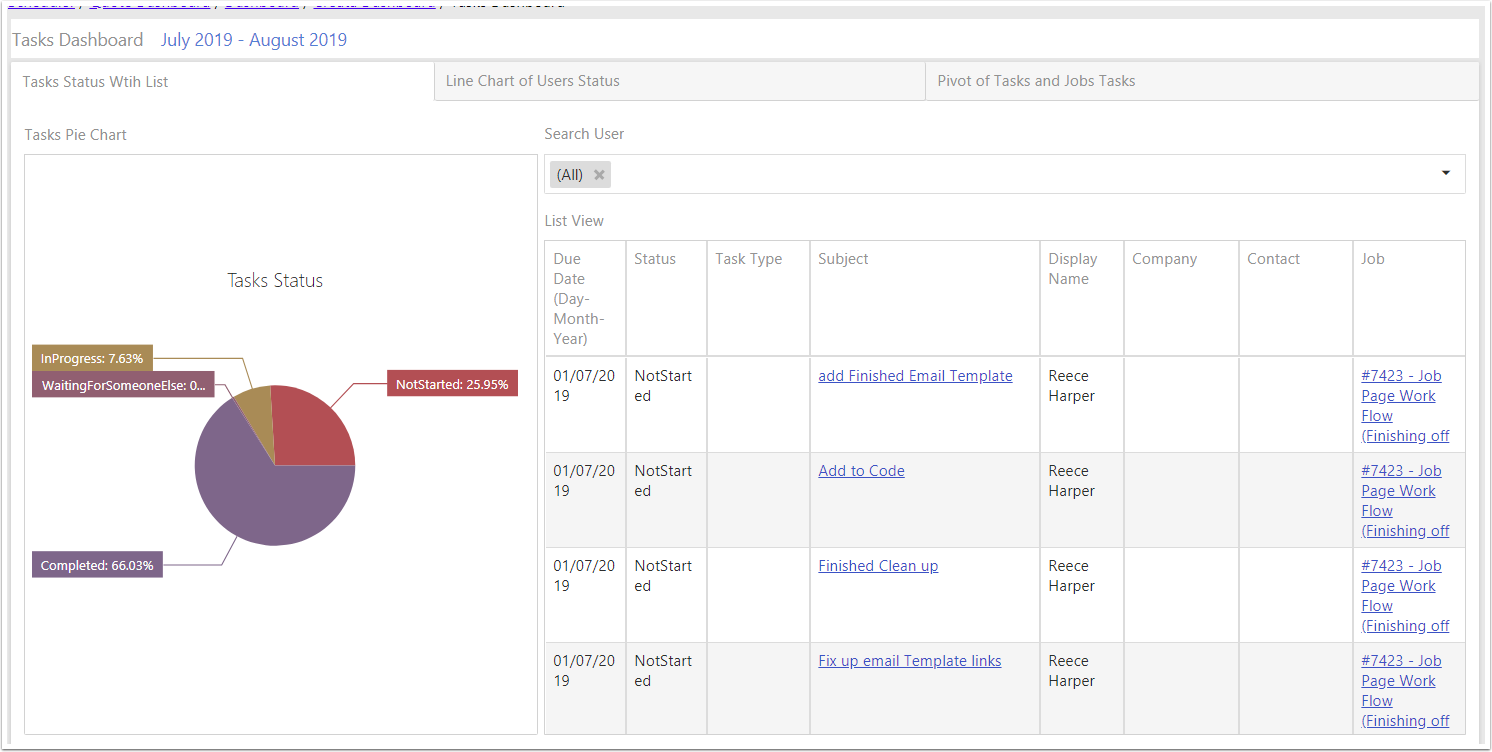 June - Quick Action Improvements to Jobs
Added Invoice All
Invoice Partial
Create Quote
Task
Attachment
Started
Completed Tasks - This has a pop up, to Quickly create tasks and clear them off.

June - Bulk Add Search can filter down on categories Tags on Product Searches
Bulk Add Search for Tags on Product Searches for
Quotes
Invoices
Sales Orders
Jobs
This is great for grouping up your products into Categories, If you have certain type of services, Vendor, product range. You can simply tag the categories and then search.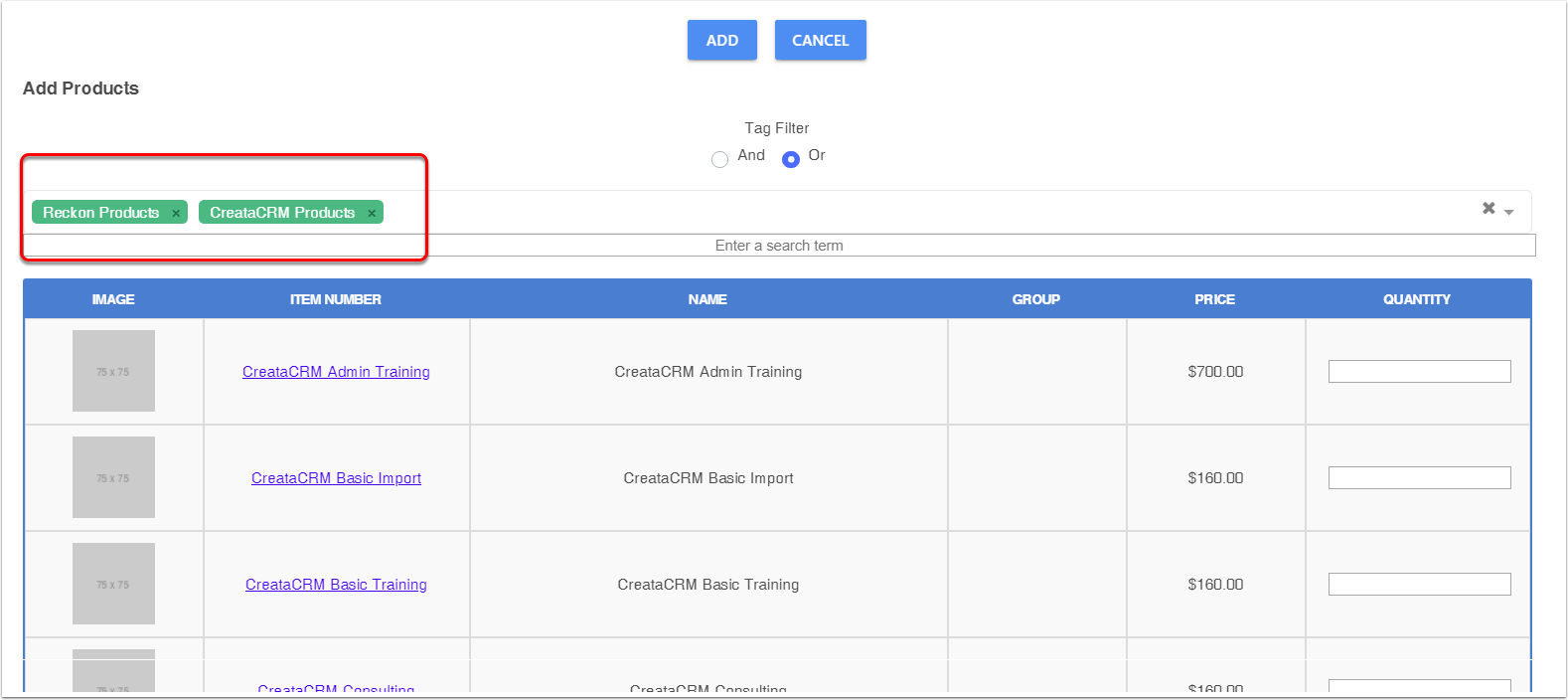 June - Tag Search Feature - Search Tag via Product List View
Able to Search by Tag via Product Services View

May CreataCRM (CRM) - Company Editor for Potential Duplicates
When creating a new company, the users will have a warning that the new company has potential Dupilcates, they can pop up and review the companies, and open in another screen to determine if they still shold create a new company

May CreataCRM (CRM) - Add Mutiple Contacts on Company
New Features that allows users to create a company new and mutiple contacts all at the same time

May CreataCRM (CRM) - New Overview Page on Company and Contacts
WE have a easy view of the Customers activities froma single view, this gives 7 groups of informations of contacts and 6 on Companies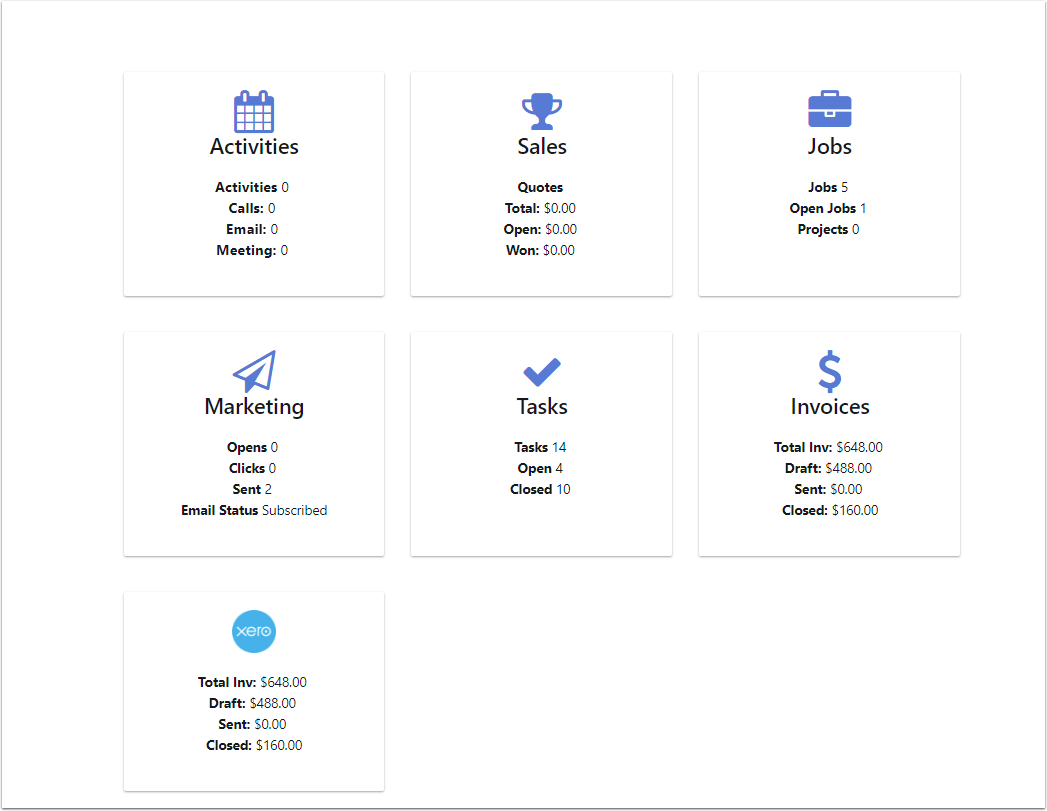 May - CreataCRM App - (WIP)
Added Whats on
Customers (Contact and Company)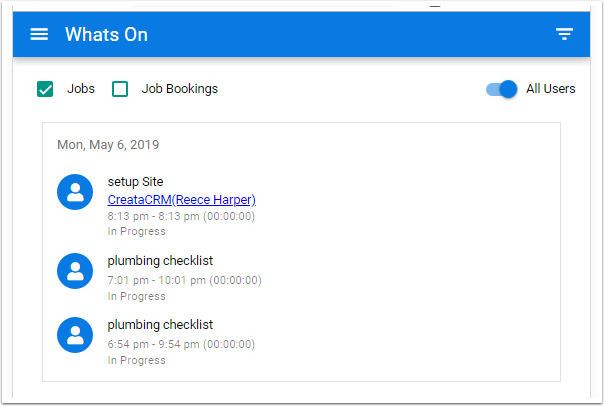 April - (Sales) Order App
Users can be on a tablet, and just choose the customer to get the clients buyer behaviour.

April - (Sales) Order Builder and Order App
Because we bring in all the sales data from the accountancy system, you will be able intelligent purchase history of the customer.
You will be able get the customers last x number of days of purchase.
Current Price
min Price
Max Price
Average Price
Last purchase date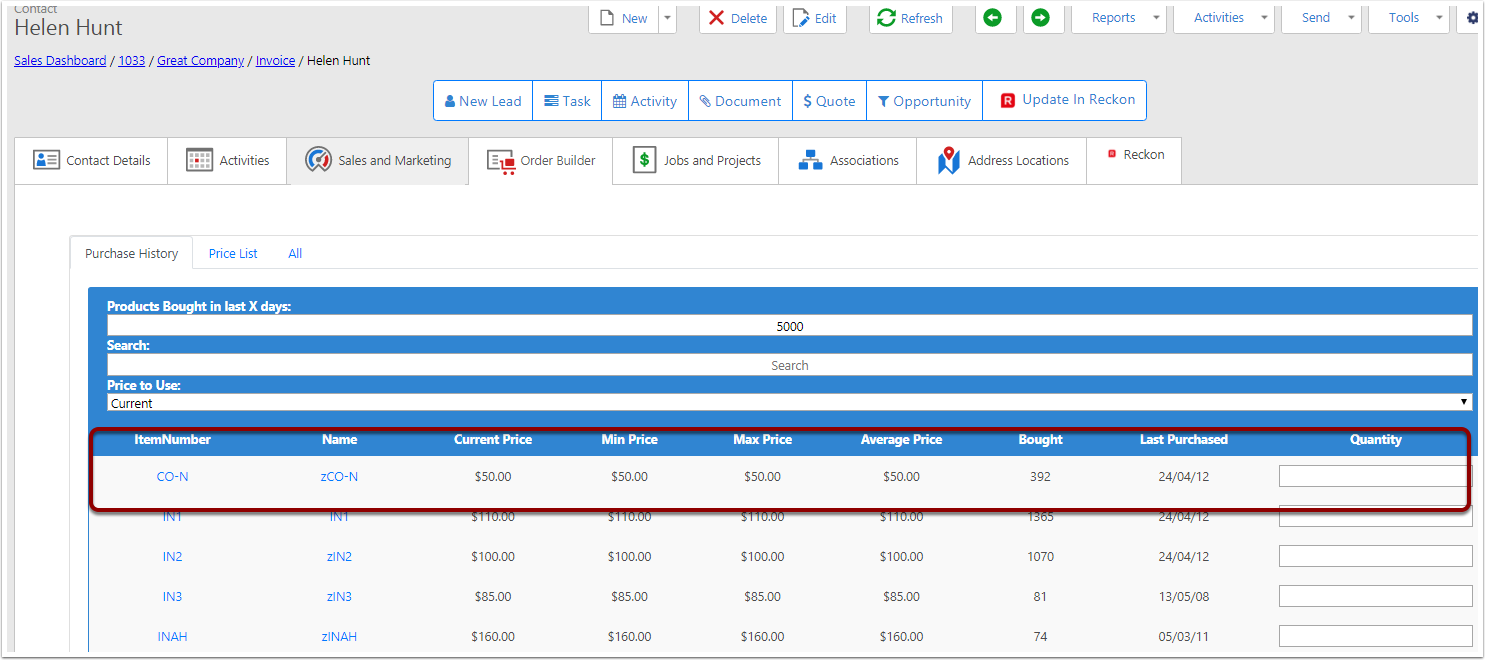 April - Added Recurring Invoices
Add - Automatic Repeating invoices

April - (Global) 12 Quick List views to more faster in Creatacrm
We have create a quick list views that load very fast. We have group them into 4 sections
CRM

Contacts
Companies
Open Tasks
Activities

Sales

Leads
Opportunities
Quotes
Invoices

Projects

Open Tasks
Jobs
Projects
Service Logs

Asset Management

Assets
Sites
Service Logs

April - (Scheduler) - All in one calendar
We have made a very quick calendar that can switch to different calendars. more information
This gives you
Activity (office 365 and google)( Google coming soon)
Tasks
Projects
Jobs
Job Booking ( for more than one user on the job
Time sheets entry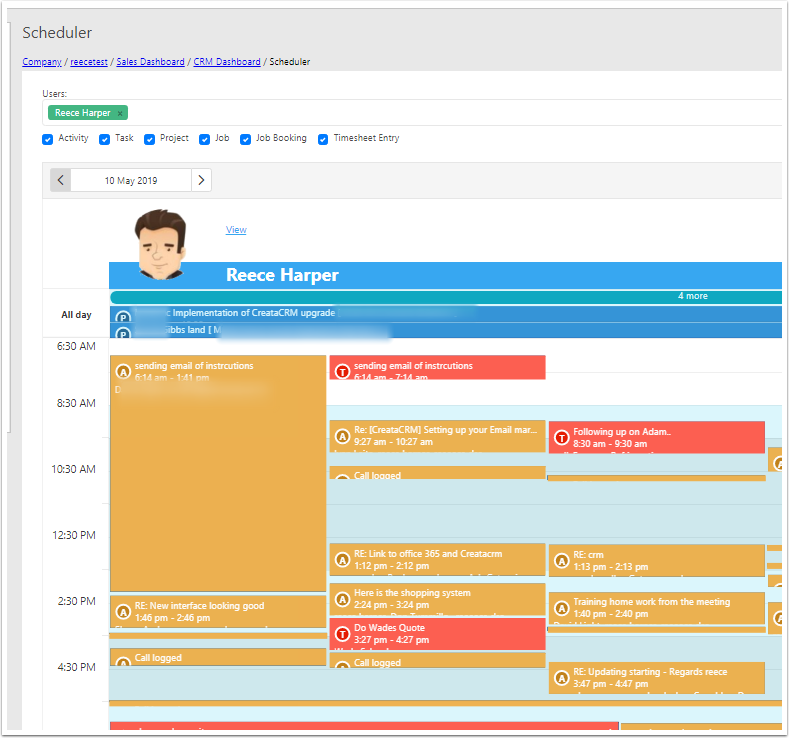 April - New Auto complete address editor that can be single editor mode
Auto compete on the CreataCRM Maps server
Displays the Maps immediately, and sets the Lat and longs
Allows to edit address without been in edit mode.

April - (Contact and Company) Quick Task and Quick Activity
New Quick inline Quick task and Quick Activity . Reducing the pop ups, and allow users to review the contact and at the same time add notes from for the task or activity.
breaking change, we have removed quick note.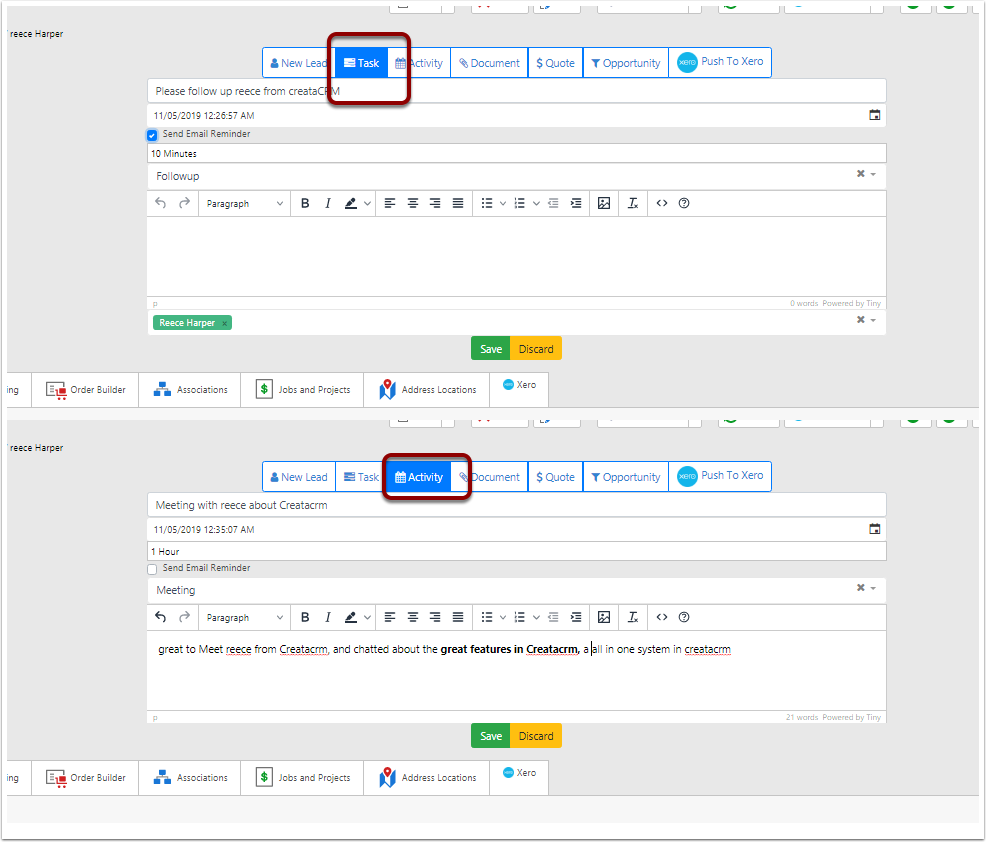 March - (Marketing) New Email Marketing Editor
The new HTML email editor has huge amount of new features
Mobile, Tablet and PC previews
Large amount of Snipits
Image re sizer and image editor
HTML settings on the Snipit.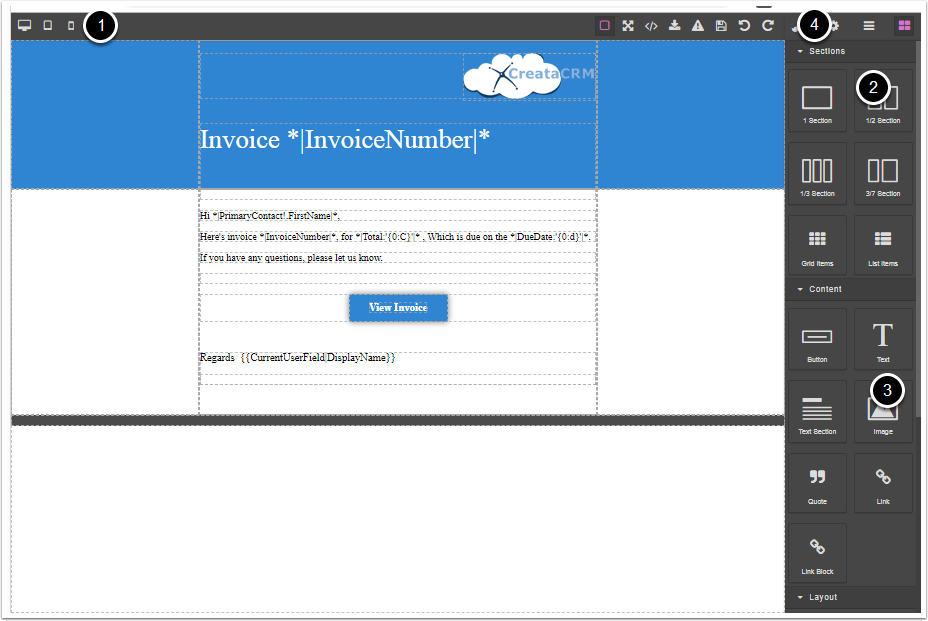 March - (Quotes) Add Tasks, Labour and materials inside a single quote item.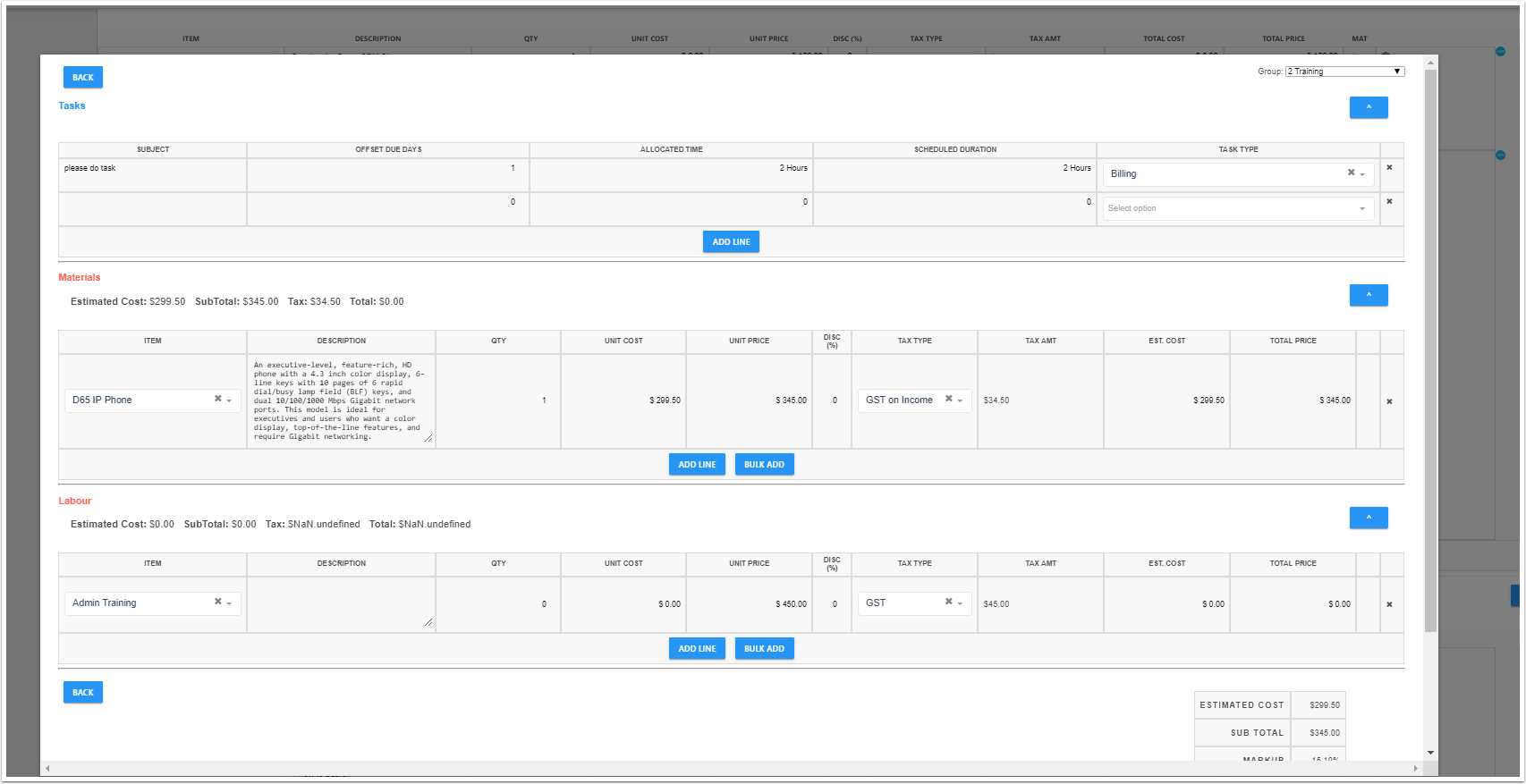 March - (Jobs) Added Cost Centre and Order Centre for Jobs
Allowing users to determine what was the estimsted cost vs Actual. Also ordering off the Job from the warehouse. For more information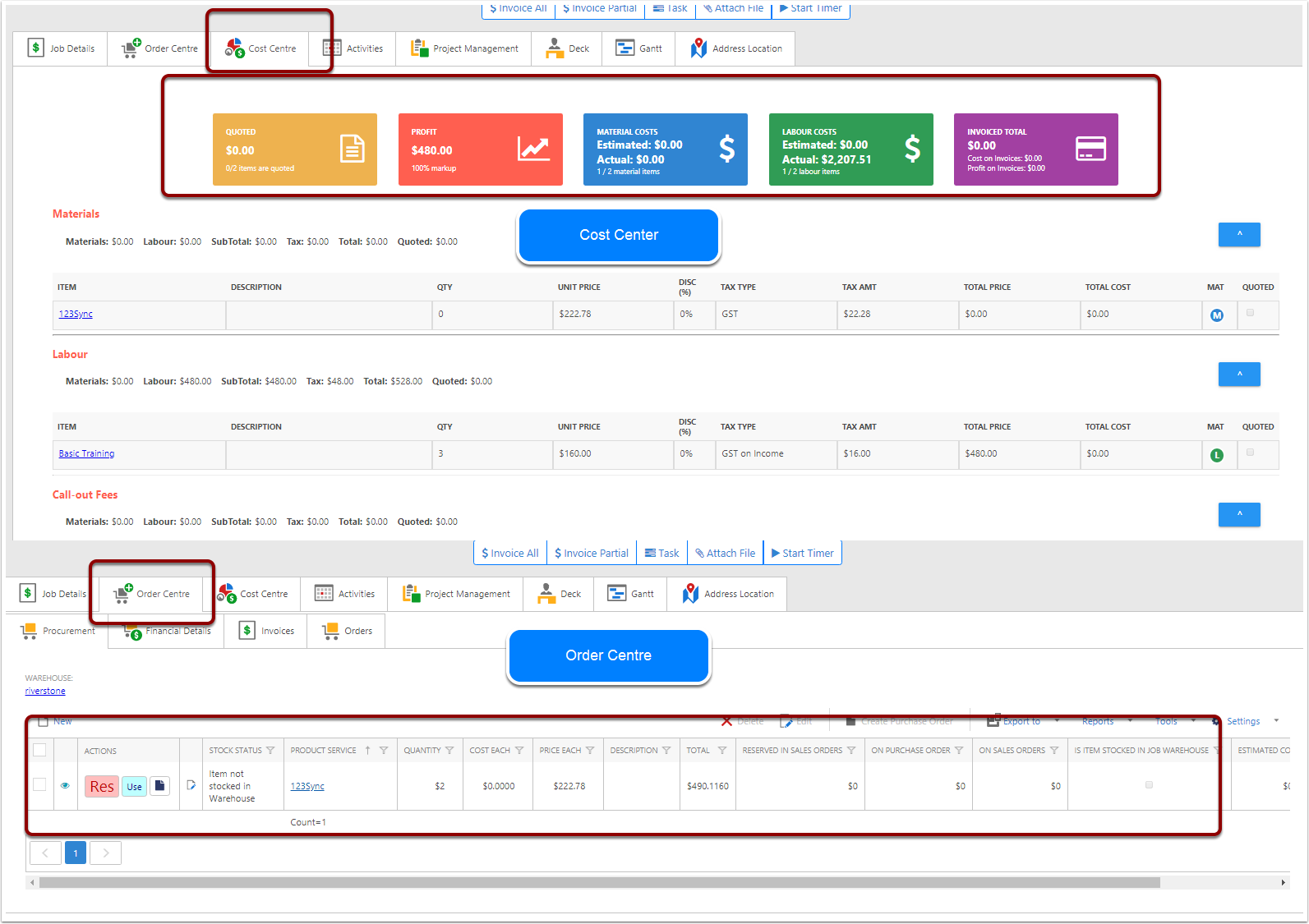 March - (Global) inline Editors and Detail Editors for single fields With needing to click on Edit mode
New Inline Editors
New editors make it faster to edit records, without clicking on edit, and wait the record to load.
This allows users to treat the grid view like Excel, they can be in one view have change records all of one view. You can hover the mouse over the fields, this will allow a blue pencil to hightlight the field. Then you can edit the field in the list view. Change the field, and then click on the save buttton. Yellow icon means it hasnt bee saved.
This also includes the detail view as will,
This feature, you will need to update your Web Browser or change your Web Browser to a support Browser.
This is a Major Change, Breaking Changes for IE (Internet Explorer 11 not supported)
Need to Refresh Cache and reload page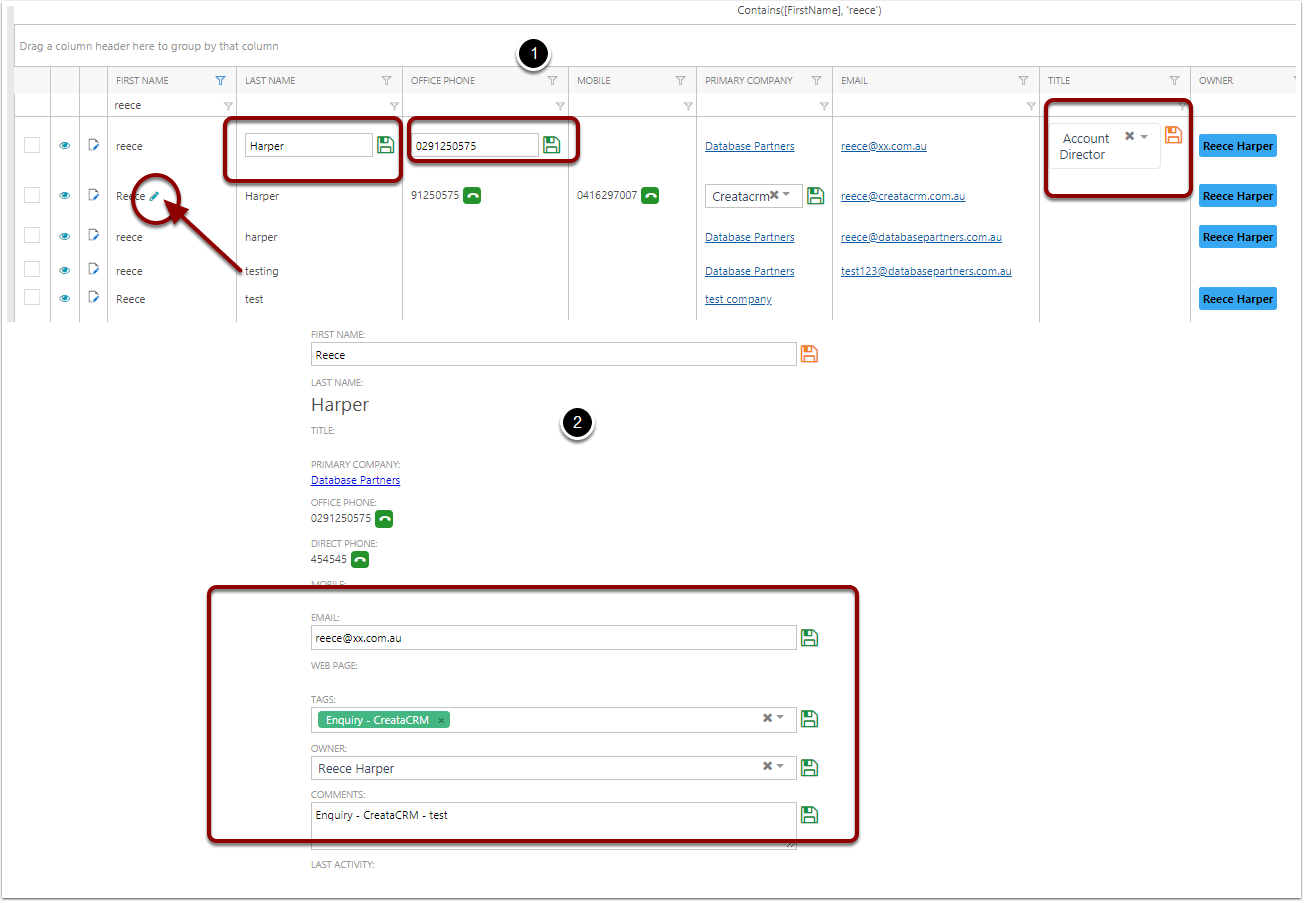 February - Scheduling Assistant on Jobs
having the ability to book time on the Job. Allow users to allocate to the allocated time.

February - User Utilization Board
Ability to see is been utilized. Actual Vs Booked, and review who you can book hte Job,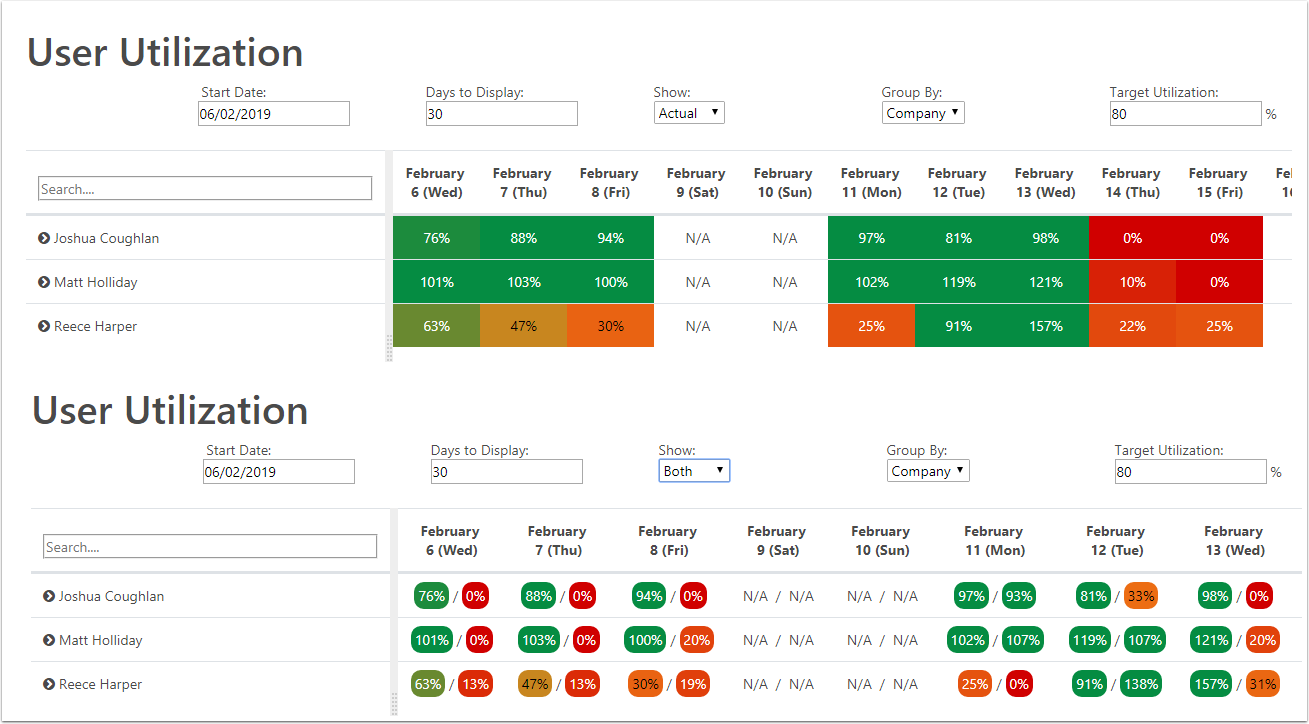 February - Adding in Users work Time
Adding in users work time for schediling. If a Contractor or a user is part-time or has holidays, you can block it out for scheduling. For more information

January 2019 - Add Precision Prices
Precision - The amount of decimal places resulting prices will be rounded to. *Please note: we use round half to even for rounding Wikipedia - Rounding - Round half to even
January 2019 - Tasks and Activity Calendar in one
All one in Calendar for Events(Activities and Tasks

January 2019 - Improvement to Email Sending
Ability to remove attachments,
January 2019 - Added Weight and Length on Product Service
Adding Weight, Depth and Lengths on Product ans Service, This allows to determine what the unit is like Kilograms etc

January 2019 - Improvement in importing tools
Improvement in Advance importer, for more information, there is breaking changers for existing import templates. Allow a number more options for the importing of Objects as when importing Product services, it doesnt create unwanted data type,